Carrigaline Farmhouse Cheese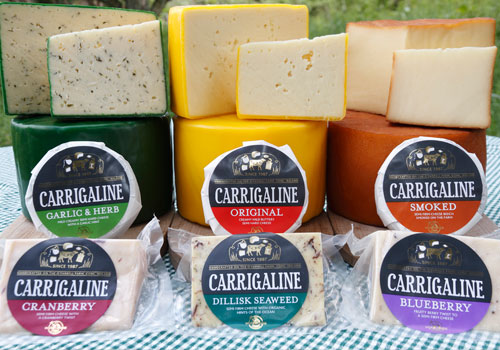 From their ancestral farm on the south coast of Ireland the O'Farrell family produce a delicious, semi-hard, cow's milk cheese. Pat O'Farrell converted the farm from traditional mixed farming to dairy to focus on production of Carrigaline Farmhouse Cheese and since 1987 he has pursued just one unique recipe, which we know simply as 'Carrigaline'.
The cheese exhibits small evenly spaced air holes, pale yellow hue and a lingering creamy, flinty flavour. Five variations on their signature cheese, 'the original', include beech-wood smoked, garlic & herb, cranberry, blueberry, and dillisk seaweed cheeses. All of the natural ingredients in the range are added at curd formation giving each variety a distinct texture profile right from day one and as a result of course dramatic flavour distinctions.
Each stage of the cheese making process is carefully crafted by hand, right down to the iconic wax coating. The cheese is free from artificial additives or preservatives. Carrigaline Farmhouse Cheese can be found in stores nationwide in Ireland and as well as select outlets across America, Germany, Italy, UK, United Arab Emirates and France.
Remaining keenly involved in their business, husband and wife founders Pat and Ann have recently welcomed their eldest son, Padraig into the business to build on the success of the past 30 years.
Our Products
Carrigaline Original

Carrigaline Garlic & Herb

Carrigaline Smoked

Carrigaline Cranberry

Carrigaline Dillisk Seaweed

Carrigaline Blueberry