Wicklow Farmhouse Cheese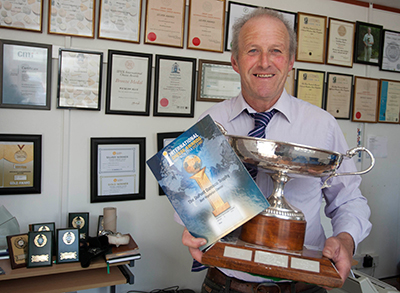 Our Story
Wicklow farmhouse Cheese is a family owned business established in 2005. The Hempenstall family farm lies between Croghan Mountain and the Irish Sea at Curranstown, Arklow, Co. Wicklow just 2m from the East Coast. John and his family before him have been farming here for generations. Wicklow Blue, Wicklow Gold and Wicklow Bán are handmade by John and his daughter Mary who oversee all cheese making to ensure that the quality is just right. Since establishment, Wicklow Farmhouse Cheese has won numerous awards for its cheese at national and international level including Best Vegetarian Cheese 20174 for the Wicklow Blue and Best Soft White Cheese 2015 for the Wicklow Bán at the British Cheese Awards.
Our Features
We use milk from our Dairy herd of Friesian Cows

The close proximity to the sea gives a unique flavour to our lush grasslands and in turn, our milk

Our Cheeses have won many Awards in Ireland and Internationally

All cheeses are handmade in small batches in order to maintain quality

100% Irish Company

No Artificial flavours

No Artificial preservatives
Wicklow Blue – a deliciously creamy seductive brie cheese with distinct blue veins causing an exciting flavour on the pallet to be enjoyed. Available in 1.2kg wheel and 150g prepack.
Wicklow Bán – a rich double cream brie. Available in 1.2kg wheel and 150g prepack.
Wicklow Gold – A mild sweet cheddar style cheese – creamy, sweet and aromatic.
Available in the following flavours – Sweet Cheddar, Nettle & Chive, Basil & Garlic, Tomato & Herb, Beechwood Smoked
St. Kevin – A delightful creamy buttery brie with a distinct aroma of mushrooms. Ideal for the catering industry and is available in 1kg brick.
Website: http://www.wicklowfarmhousecheese.ie/